Hive Guards
Even more warhammer 40k. I know - it looks like I'm doing nothing but painting instead of trying to finish my study this year. I just took some photo's just now - that's all..really.

Hive Guard 1: the left arm wasn't long enough to reach the gun so I made a make-shift 3rd part on the arm. Not entirely happy, but not too unhappy with it either.



Hive Guard 2: the photo came out dark, fixed it a bit with some editing. The arm on this one was better, and just reaches the gun which almost looks like it fits so I left it at that - you can't see it on this photo anyways.



Hive Guard 1 & 2: dark photo, but I'm to lazy to fix it or get a new one.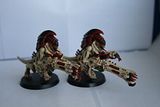 These guys should make taking out vehicles a bit easier. #1 already scored a landspeeder and a half, a dreadnought a tank and an instakill on a captain :)
Labels: 40k, hive guard