Trygon - Prime - Mawloc photo's
I worked on this model for aprox. 4 months before it was finished. Because I magnetized the heads and put the different tails on a pin you can easily switch between Trygon, Trygon Prime or Mawloc.
Trygon:

Trygon Prime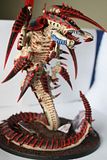 Mawloc (I found out at the last moment that I had to reposition the talons to make the head fit)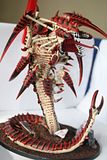 Below is a close up of the base of the model.
I have also made a Trygon marker base where the Imperial Guard have repaired the propaganda add (a poster featured in the 3rd ed codex) that has been shattered here. The markerbase is finished except for the guard models themselves. I'll post it when it's done.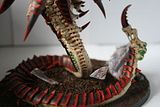 As for size comparison - it stands about 6"(15cm) tall.
Labels: 40k, mawloc, Trygon, Trygon prime