Rite of passage
A rite of passage, that sounds almost like something from the time of when we were running around after mammoths and cavebears to get some food and to earn a real name. But I think you could say that passing your driving test is a modern day rite of passage.
As you've already guessed, I passed it today!!
It took me quite a while but that was mainly because there were some big gaps in between my driving lessons (once I choose a new computer over paying for a new block of driving lessons and last summer I sprained my ankle so I couldn't drive).
Next to that it takes me a while to get good at these kind of things, I've learned to live with that and I'm not ashamed of it because passing it is what counts. And I've passed on the first try! And not that I have disdain for people who need more tries (far from that!), but while you're driving people ask '..so how many lessons have you already taken' and when you got your driving license that question just changes in '..so how many times did it take you to pass'.
So in the end, the only thing that matters for me is thát I passed, and that I needed only one try is just small talk.
Oh and I drove around in this Opel (or for the British..Vauxhall) Astra: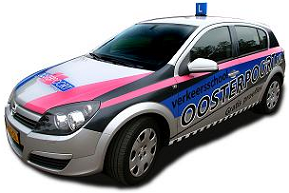 *does a happy dance*